By Natalia Kaczmarek, Digital Content Creator
Online user behaviour is constantly evolving, and so are the search engines. Google – the biggest and the most popular one – rolls out thousands of updates to its almighty algorithm every year to ensure the top results are the most relevant and reliable, and reflect the broader user changes and advancements in technology.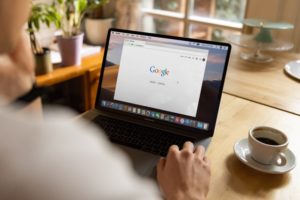 It certainly isn't the easiest thing in the world to keep track of all the updates, let alone dissect what they mean and adjust your SEO strategy accordingly. The good news is that you don't need to flip your SEO tactics on their head every time Google drops something new. The fundamentals always stay the same; that includes doing keyword research, not letting keyword stuffing kill your SEO efforts, using image alt text, and remembering to optimise meta descriptions and headlines.
However, just following the basics might not get you as far (or as high) as you want to be this year. Some of your competitors might be more SEO-savvy or use a specialist agency to help them rank higher, so you need to act now.
Nail these five SEO techniques and you'll be sure to supercharge your site's performance in 2022:
#1. Think about user intent
Google increasingly focuses on finding out the intention of the user and improving the semantic search. Instead of the individual keyword, Google will now make connections between all the words in a search term. So, when a user types a query into the browser, Google will think carefully about what they hope to find. For example, if they type 'Tesco', they're probably looking for the nearest store, not the head office. One thing that will help you get on Google's good books with search intent is to type in the keywords you're targeting and research SERPs that come up. These are exactly the types of results that Google deems the most relevant so use them to your advantage.
#2. Consider page experience
Google now prioritises indexing and ranking of websites that are mobile-friendly. But mobile usability is only one of many elements of the page experience that the biggest search engine is looking for this year. The others are:
HTTPS usage (secure site connection)
Loading performance (the faster, the better)
No intrusive interstitials (get rid of those annoying pop-up ads!
#3. Optimise for 'People also ask'
You have probably seen the PAA boxes on Google – they are present in almost half of all searches and are continuing to grow on both mobile and desktop. Unlike featured snippets, it is possible for you to appear in the PAA box and hold a standard organic ranking on the first page. That makes them the perfect SEO opportunity. The most common types of queries that trigger PAA boxes are usually questions starting with 'what', 'when', 'where' or 'who'. So, next time you're writing a blog, conduct a Google search around the topic you're writing about, find out what people are also asking, and structure your blog so that it answers these questions.
#4. Demonstrate topical expertise
Your website has to demonstrate expertise in a particular topic, whether that is manufacturing, data analytics or recruitment. High-quality content related to your field of knowledge and experience will, therefore, get you higher on Google. It will signal to the search engine that you clearly understand the subject. Not only that, but it will also help the users and prospects see that you know your stuff, making them more likely to partner with you in the future.
#5. Earn authority backlinks
Earning authority backlinks is probably the hardest thing as it remains one of the top Google's ranking factors this year. There are many link building strategies, but one that can really help you is to leverage your digital PR and your amazing content creation. The right article or a press release will deliver a number of editorially earned links from publications that your future customers read. So, don't forget to provide a link to your website somewhere in the copy of your next thought-leadership piece before sending it to the journalist.
Good luck!