By Annabelle Tooby, Account Executive
National lockdowns, the rule of six and not forgetting the monotonous 'hands, face space' has meant that for the past year and a half socialisation as we know it ground to a halt. But, with large scale festivals, dancing in nightclubs and holidays abroad already starting to return, it seems as though normal(ish) life is nearly within our grasp. And for us in the PR industry, it means we can finally start to get excited about the return of face-to-face events.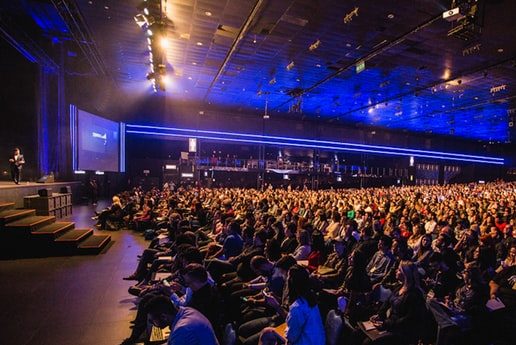 Post-Freedom Day, many people are still feeling slightly apprehensive about jumping straight back into office life and eventually the return of F2F events. Who can blame them, after a year dominated by remote working and so many lockdowns in the end we lost count… However, the outlook of the nation is looking encouraging, with 97% of UK sports fans itching to get back into stadiums to watch their favourite teams play once again.
It's safe to say 2020 shifted the PR landscape more than we could possibly imagine and we were forced to adapt at speed to our ever-increasing digital lifestyle. So, with that, let's take a look back at the trials and tribulations of online events while also throwing it forward to hopes of F2F returning to their former glory days soon.
Technology is PR's best friend
With the past year or so stifled by Zoom calls and email-only interaction with journalists and clients, the industry saw a dramatic shift towards virtual events. One of the first organisations to shift its annual global event online was Salesforce, an American cloud-based software company. In the wake of the pandemic, events must go on and Salesforce reported that a whopping 80,000 people live-streamed the event, proving that if done right virtual events can be a huge success.
Compared with the previous year's in-person event, which only 10,000 people attended, the ability to host online broadened the companies reach 8-fold on this occasion. The only downside with this approach is that no matter how creative, elaborate or entertaining, virtual events just can't replace the in-person conversations and relationship building that F2F events allow.
Voice of the people
It seems, however, all has not been lost during lockdown as there is a positive optimism surrounding the return of F2F events. In a survey conducted over the past year by events company Freeman, 85% of attendees are hoping to return to F2F events by the end of the year. It is certain that one of the biggest challenges faced by hosts will be to regain the confidence of their audience and to make them feel safe should they choose to attend. To combat this, ensuring events have the correct regulations in place to reassure people will be crucial. Enticing an audience with engaging and exciting events is now more important than ever.
Journalists have also expressed their views on various online forums, with the majority voting to bring back in-person events. As always, there has also been some scepticism and opposition with one journalist commenting that they won't be risking F2F meetings or events in the event they are "pinged" by the NHS track and trace app. The newly coined term pingdemic has been floating around the media recently and unless double jabbed I am inclined to agree with the journalist on this one – especially when I have a holiday coming up!
But before we throw away our face coverings, ditch the elbow bump greetings and get back into a room with masses of people, let's first think about what we can expect from PR events in the coming months and even years. Will we converge the in-person event with virtual and present a new era of innovative hybrid events? Definitely food for thought.
Whether you'll be rushing out the door or stopping in and attending virtually, it's safe to say that we have all missed the buzz and real-life experience that F2F events bring. Perhaps the best way forward is a hybrid blend, either way, it's an exciting time of change for PR events.