Retail has changed, both for better and for worse. Gone are the days of visiting a store and finding the product you want is out of stock or ordering something online and waiting days for it to arrive. Now, order before 11pm and you're guaranteed next day delivery. Everything now revolves around convenience which, as a consumer, is great. At the same time, the high street is struggling. Almost every day we see another news story about a profit warning or a chain going into administration due to the "challenging retail climate" and "changing consumer habits". However, there are plenty of actions going on behind the scenes that don't quite make the national news, of technological developments ticking away in the background of the retail sector, all with the aim of revitalising the high street.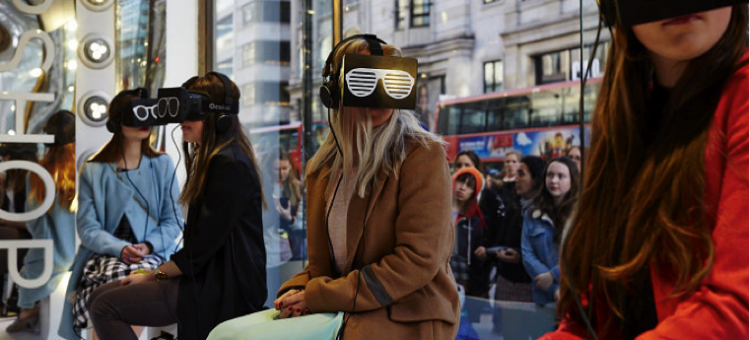 VR/AR
Virtual reality and augmented reality (VR/AR) is a widely discussed topic across all industries, not just retail. In fact, over the next few years its use is predicted to increase, from architecture and manufacturing, to interior design and medicine, as well as its use in gaming. VR allows designers and consumers to 'see' new cars, factories and houses before they're built, or for surgeons to study a 3D duplicate of human organs to accurately diagnose conditions.
Although there's still a way to go, we are seeing progressive take up of VR/AR innovation in the retail sector. For example, John Lewis recently announced it was implementing augmented reality for its customers to see what make up looks like on their faces prior to buying, with more than 300 lipstick brands to choose from. Similarly, M&S has invested in specialist fitting technology that uses 3D scanning to allow customers to find clothing that best suits their shape and size in a bid to cut down returns and bolster sales. Whiskey distillery Jack Daniel's also released a new interactive AR marketing tool, that turns any bottle of its product into a pop-up like book that tells the story of its brand and history. The technology here is still evolving, but with the innovation in progress already, it will be exciting to see what more VR/AR can bring to the retail sector.
AI and Machine Learning
Numerous retailers currently use machine learning, but AI is still yet to be fully adopted in retail. The primary difference is that machine learning adapts to provide a human with the data and basis to make an informed decision, whereas AI adapts and makes the decision itself, so it's arguably understandable that many aren't quite yet at the stage of relying on robots. Yet the industry can establish trends and patterns that can tailor the consumer experience. On the retailers' side, this is beneficial in ways such as cost saving, as machine learning today can identify changes in the weather or current affairs, for example, and over- or understock accordingly. And McDonald's recently introduced AI technology that automatically suggests a McFlurry ice cream on hot days, as well as using number-plate recognition to offer customers their usual food order. Walmart also unveiled its new 'store of the future' last month, including AI-powered cameras to monitor inventory levels to determine whether shelves need restocking, or if fresh items have been sitting out for too long.
At the moment, these developments are new enough to be exciting, but given the accelerating speed of technological innovation, it's only a matter of time before they'll become commonplace in the retail sector. And with that in mind… surely the high street will then experience a real resurgence?