By Hannah Buckley, Head of Content
The importance of taking care of our mental health and wellbeing has been a regular topic of conversation over the last year and this year's Mental Health Awareness Week helps to bring that to the fore once more.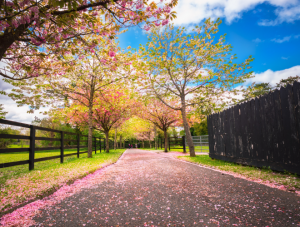 The theme of this year's event, which began on Monday, is nature, highlighting just how big an impact the world around us can have on our mental health. In fact, according to The Mental Health Foundation, more than half of UK adults say that being close to nature has improved their mental health, while four in ten say it has made them feel less worried or anxious.
Over 3.5 million people have taken up gardening for the first time during the pandemic, and for many of us, activities like this or getting out to our local park for some exercise has been a real lifeline over the last year.
Now, as restrictions begin to lift, making time to connect with nature in some capacity should be something we still try to make time for to reap both the physical and mental benefits it can offer.
If like me, you can't leave home without your mobile phone, then why not put it to good use? No matter how much time you have available to you, whether it's a quick walk on your lunch break or a cup of tea in the garden of a morning, there are a wealth of apps on offer to help you get in touch with nature and protect and support your mental health.
Test your tree knowledge
Apps like TreeID by the Woodland Trust, which can identify trees using bark, twigs, buds, leaves, flowers and fruits, and iNaturalist, which uses artificial intelligence to ID plants and wildlife, can help you reconnect with nature and learn more about your surroundings. Paying attention to the local scenery and wildlife on your next trip to the park could make you feel calmer and more present in the moment.
Don't forget to look up!
No telescope? No worries. A range of apps are now available to help you make more sense of the night sky and identify stars and constellations in your corner of the world. The use of augmented reality within many apps means that even if you live somewhere with a lot of light population, the app can still locate where you are and pull up what the star map should look like above you.
Try mindful walking
Like me, you might have found yourself continuously running and walking the same routes for the last year and may now function on autopilot. Mindful walking gets you to tune into your environment and the sensations of your body. By being more aware on your walk, you'll open yourself up to the sights and sounds of nature, which may help you feel more present and less stressed. If you're new to mindful walking, apps like Calm or podcasts can help to guide you in this practice.
Bring the outside in
Even if you can't get outside, there are still plenty of ways to connect with nature. Bring the outside in and add plants to your workspace. If you're not particularly green-fingered, then download an app to track when you should water them and how to make sure they thrive. Alternatively, take five and look outside your window. If you're lucky enough to hear birdsong, you could use an app to help you identify the species of bird it's coming from and even learn bird calls yourself.
With mental health charities advocating for spending time in nature or bringing it into your everyday life, giving one of these apps a go will not only help you reconnect with nature and change up your usual walk, but could also help support your mental wellbeing.